Enter your login information and click the Login button
3. You will then be redirected to your account dashboard.
4. From your Dashboard navigation click "Events"
5. Scroll down to the bottom of page to the "Submit an Event" section and click the Begin button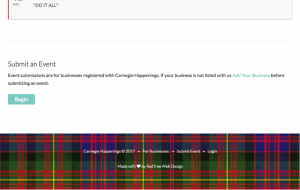 6. You will be redirected to the Event Submission page. Read through the initial text.
7. Scroll to the Submission form and fill out with your information and click the Submit Event button.
8. You will get a Thank You screen once you submit and once the Admin approves your event and publishes it on the website, you will receive an email letting you know.